Theres more to come!
Keep on coming back to check out our site, we will be being to add more and more products for sale each day so don't miss out on our new products!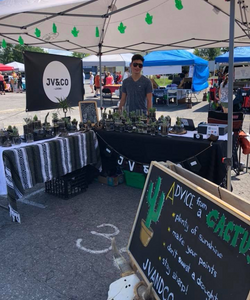 My Story... Thus Far!
My name is Jordan Vecchio; I am a recent high school graduate in Ottawa, Canada's Capital city. Starting and running a successful business was something that has been a dream of mine for many years. This dream came to fruition when I was in my grade 12 years of high school. I became involved with the Junior Achievement, and with my grade 12 business class, I became a product founder for our company. After our school year ended, I decided to take the company that I helped build and start my own company JV&CO. I started the company by selling Cactus arrangements at farmers markets in my hometown of Ottawa were people loved my products. However, I want to expand my business, so I have decided to expand into the homeware market. I have meticulously chosen all of these products to sell under the JV&CO brand. The items for sale on my website; I believe, fit with a modern home aesthetic. I hope you all enjoy the JV&CO experience; I wish you all the best, and I hope you all will continue to fallow my business in the future.